Nubiles Porn Tiffany Doll in Natural Seduction
Lusty Tiffany Doll is sweaty after her morning workout. She goes back to her room to change, but gets sidetracked when Matt Ice joins her. Laying on her belly with her feet kicking in the air, Tiffany pulls out Matt's stiffie and lovingly licks every inch before settling in for a long, feisty cock sucking. Her blowjob only ends when she rises up to sink down on Matt's member for a titty-bouncing ride.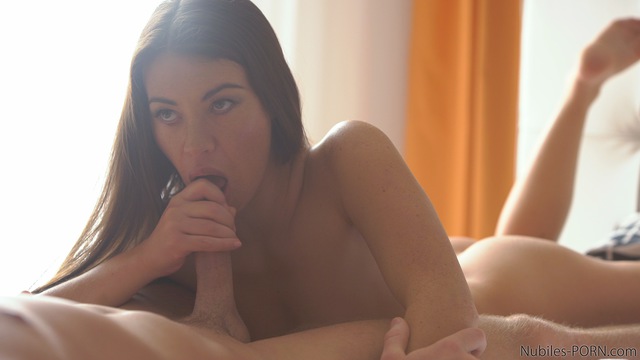 Getting up on her hands and knees, Tiffany lets Matt take over so that he can deliver the pussy pounding she craves. As her moans of pleasure grow more and more urgent, Matt flips her onto her back and spreads her legs so that he can feast on her creamy twat before filling her up for a final frantic fuck.
Tiffany's sighs of ecstasy are still filling the room when Matt reaches the edge of his endurance. He pulls out of the warm embrace of Tiffany's snatch just in time for her to reach out and wrap her hand around him for a brief intense handjob. Tiffany's efforts pay off almost immediately when Matt covers her flat belly in a long thick rope of cum.